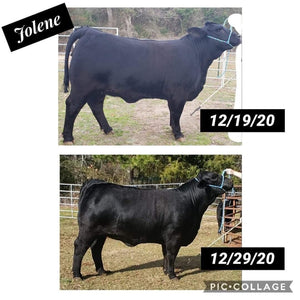 Providing Winning Power
Power Up Facts!
• Power Up is a Feed Supplement that increases muscle expression and definition NATURALLY.
• Power Up will increase appetite and stimulate weight gain. Easy to use, just add 2 ounces to the feed in the a.m., and 2 ounces in the p.m.
• Power Up uses all natural bio-available sugars and ingredients. No Ractopamine or Creatine.
• Power Up is highly palatable and comes in an easy to use powder form. 
• Power Up is safe for all species, all reproductive statuses, and all sexes.
2021 Purple Power Winners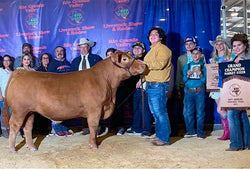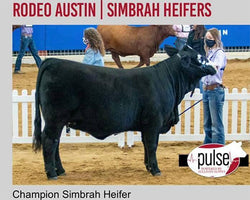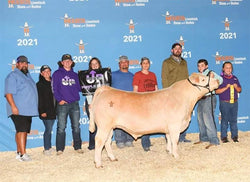 Purple Power Results
Don't just take our word for it, let our happy customers show you their proof!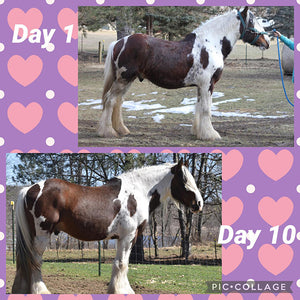 The difference 10 days can make!
A happy equine before and after! "He's eating better, he's gained significant weight, and I am impressed with the change in his hair coat." - Loretta B.

Power Up is making a difference wherever you use it, on many different species and breeds!
Testimonials
Let me tell you when I first started seeing this product I was a huge skeptic, you always try these products that say they do one thing but it just feels like you're spending money for no reason. We bought a tub at the Ohio Beef Expo for one of our steers that has barely eaten all winter. In the short time we have been using the product his feed intake has increased almost 3x!!! He's the only steer that consistently cleans up his feed. Cant wait to see how he looks in another month!

Trevor C.
"I broke down and got some Power Up for my longhorn heifer and WOW it works amazingly. We were hesitant at first since it hasn't been tried on a longhorn before this but it worked wonders and we saw a difference in just one week!"

Anonymous
Put my 25 yr old retired show horse on Power Up last Wednesday. We fed it from Wednesday night to Friday morning. With only 2 full days worth of feedings, my mom is very impressed by what she's seeing. His bowel movements are improving and he even seams more energetic running up for breakfast this morning instead of the normal slow trot. Can't wait to see him in a month.

Anonymous